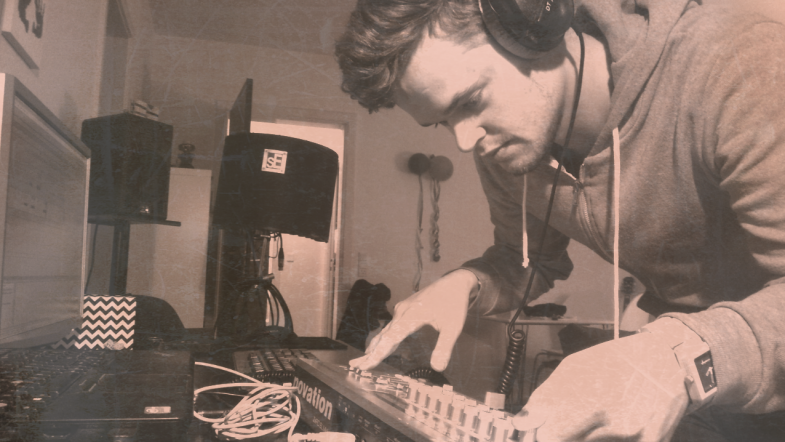 Behind the Beats: STBB#401 – Fredson Jacobs
November 17, 2014

326 Views
Hi everybody! Fresh after friday night's vote, we're back at you with our weekly report from the Stones Throw Beat Battles.
This week, winner Fredson Jacobs joins us for a few words about his track.
The STBB is a weekly beat battle, where anywhere from 50 to 100+ participants from all over the world, are provided a sample to flip/chop/edit/screw, and make a beat out of it within just a few days. All the participants then cast out a vote, and the winner picks the samples for the next round. We provide a weekly report and an interview with the battle winner.
Original Samplepack: (provided by Robot Orchestra)
Acapella (Kimbra – Settle Down):
Special Rules:
Use at least one of the provided samples
Use parts or whole of the provided Acapella
Outside everything allowed
Time limit: 3 minutes (or whatever)
Special rule: Make sure your beat contains a tempo variation at some point throughout the track.
The Winnner
Interview with the battle winner, Fredson Jacobs
Hi Fredson, congratulations the win! 🙂
We know you've won the STBB a few times in the past, do you recall which numbers they were so people can have a listen to your tracks?
Fredson Jacobs: I think I have won 4 times before with these tracks:
Mixed on a potatoes [STBB 363]
I WURK HRD AS FUK PLZZ [STBB 362]
High Enough [STBB 334]
Whispering (How long was your planeride) [STBB 315]
I'm guessing Fredson Jacobs is your real name? If not do you want to share how you came by it? 🙂
Fredson Jacobs: Fredson Jacobs is not my real name, but is a switchup of my name which is Jakob Fredsted. I don't know how I came by it, but I was in to graffiti before I started doing beats, so I always had a lot of different names I would use, but this was the one that stuck and got used for my music.
Your Soundcloud profile says you've been accepted to the Danish Music Acadamy last year. How has that influenced your music so far?
Fredson Jacobs: It has a great influence on my music and I feel like I'm developing a lot. Not only because I'm learning a lot of new things at the academy, but also because I have the freedom to think about music all the time.
I am currently making an Album/EP that should be released next spring/summer and hopefully it will show a bit more of what I have been working on and learning about the last year or two.
What Equipment or software (DAW, VST's etc) did you use on this track?
Fredson Jacobs: I used Ableton Live 9 for "SAY HAY". Pretty much everything is made with the effects and instruments that come with Live 9, except the sidechained synth that starts at about 1.13 which I programmed in Fabfilter Twin 2.
All the other sounds I have used, besides the samples, are either field recordings or sounds that I programmed in the operator.
I haven't used any outside effects except Fabfilter Pro Q on a few tracks, where I wanted to be a bit more precise with the EQ, than I felt like I could with the EQ eight in ableton.
We also read on your Soundcloud profile that you use a lot of field recordings. Do want to share with what kind of equipment you do that? Did you make/use one specifically for this track?
Fredson Jacobs: I usually use my Zoom h1 recorder for field recordings, but I had the chance to borrow some really great Schoeps mics from my school and made a lot of new recordings of different things with these mics. I used some of these on "SAY HAY".
What was your approach to get started?
Fredson Jacobs: My first approach was to just listen to the samples and get some ideas. I was actually just playing with my 3 year old daughter and the samples just looped for a long time and I had a few ideas while we were chilling. Then later on I sat down and chopped the samples up and played around with it for a while and made the intro.
After that I played around with some drums and when I felt like they were sounding good, it was really easy to work with the samples afterwards.
How did you make use of the sample?
Fredson Jacobs: I chopped and reversed the "runners" sample for the intro and for the part that starts at 1.48.
And then I worked with the "Short Stories" sample for the part from 0.17. I did some pitchmodulation and stuff like that.
I used The Kimbra Accapella on the whole track in different audio or miditracks with different effects and variations.
How did you go about the drumwork?
Fredson Jacobs: The Drums consist of different layered drumsamples, field recordings and then I used the operator to make some of the percussive sounds.
I don't use quantizing because I like to get a live feel to it, but I do a lot of editing afterwards to make it on point where I want it to be.
Did the process go smoothly or did you bump into any obstacles?
Fredson Jacobs: Sometimes you get a nice flow, and that really happened with this track. I had one of those days where most of the ideas I had for the beat, ended up sounding pretty good. So the whole tracks was pretty much made in one day, and then I spend the 2nd day mixing and doing small edits here and there.
Is there something about the track you'd really like us all to know?
Fredson Jacobs: Not really, just that it means a lot to get props from the STBB family, and I always learn a lot when I participate, because you really wanna bring your A game when there is so many dope beatmakers participating.
Thanks for taking the time to talk to us, Jacob! Hope you enjoyed sharing some of this stuff with us, have fun picking the sample and coming up with the rules.
peazy J.
Check out Fredson Jacobs' music on Soundcloud
Other beats worth checking out: